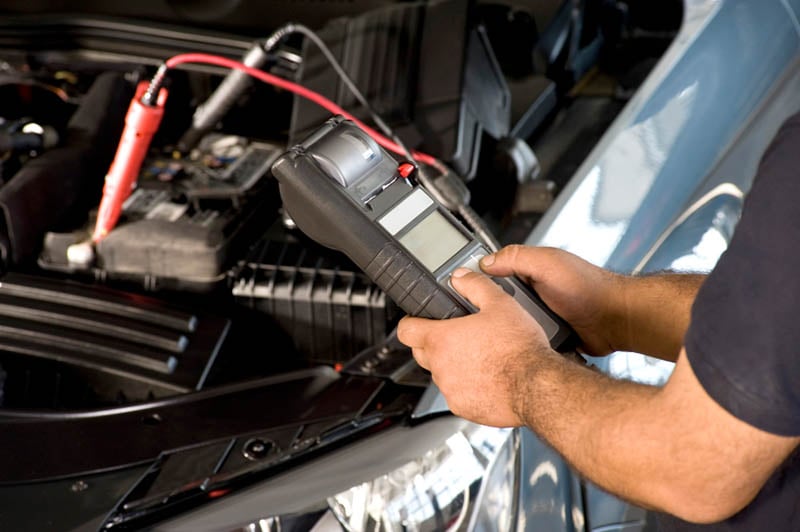 The expert automotive service team at Hyundai of Cool Springs handles a wide variety of battery maintenance issues. As the heart of your Hyundai, the battery supplies the energy that powers every other component of your new or used vehicle. We educate our customers about the basics of car batteries that include understanding the five signs you need to replace your battery.
Car Battery 101
Car batteries typically last between two and three years, with some batteries that power larger vehicles lasting as long as five years. Hyundai of Cool Springs recommends replacing your car battery every two years, which should be long before the battery experiences any problems. The battery relies on three other car components to power your new or used Hyundai: alternator, terminals, and starter. Each of the three components that work with the battery to power your car can be the culprit whenever your vehicle begins to show signs of slowing down. We strongly urge our customers to bring in their vehicles to our world-class service center to allow our technicians to test each component. Remember that most car batteries do not optimally perform in cold weather, even new batteries that show none of the following five signs you need to replace your battery.
5 Signs It's Time to Replace the Battery
Our team of repair and maintenance technicians looks for five signs you need to replace your battery. The five signs do not appear in any specific order and multiple signs may occur simultaneously.
Engine Cranks, but the Car Does Not Start
As the most obvious sign of the need for a battery replacement, the engine turns over, but the car does not start. This frustrating sign typically appears out of nowhere and car owners may mistake the sign as the result of a poor starter or diminished alternator. Your battery may register "good" when you measure its strength with an amp meter, but it does not deliver enough volts to crank the engine.
Lights Out
The easiest sign to discern sits at the front of your new or pre-owned Hyundai vehicle. Your car battery powers all of the accessories, including the headlights. If your engine sputters, check to see if the headlights shine at the normal amount of illumination. Headlights require little energy from the battery to operate a full illumination, so low dim or no illumination at all means you have a serious battery issues. In addition, the alternator may play a role in causing problems with the headlights.
Erratic Means More than Battery Age
Battery problems often result from simple aging of the power source for your new or used Hyundai. However, whenever you experience erratic battery performance, you may have something much more serious than an old battery. Hyundai of Cool Springs technicians inform our customers that loose, corroded, or broken battery terminals cause intermittent battery problems. We check the battery cables, before searching for other reasons why your vehicle refuses to start. The cables should securely fit around the battery posts; you should be able to move the cables at all.
Cold Cranking Can Make You Cranky
Your battery comes with a label that includes the term "Cold Cranking Amps." This term refers to the amps that provide the car engine with enough energy to start for the first time during the day, which typically happens when you want to start your car for the commute to work. Age is the primary culprit of extended cold cranking, as the battery does not possess enough power for cold cranking the battery first thing in the morning. This sign prompts car owners to tap on the gas pedal to give the engine more power. If you find yourself tapping the gas pedal first thing in the morning, then it may be time to shop for a new battery.
Jump Starting Your Vehicle
Your battery turns the engine over, but after a few minutes, the engine dies and you need to jump-start your vehicle. The need to jump start your car from time to time may appear to represent an obvious sign you need to replace your car battery. However, other components, such as a faulty starter, fuel pump, and alternator, can cause excess drainage from a healthy battery. If you have to jump-start your Hyundai vehicle at least three times a week, then the time has come to bring your vehicle into Hyundai of Cool Springs for a comprehensive vehicle maintenance check.