Hyundai of Cool Springs is thrilled to win a 2016 Dealer of the Year Award from DealerRater, the internationally renowned auto dealership ranking website. Learn why we're so excited about this DealerRater award and what it means for our Franklin, Tennessee Hyundai dealership.
DealerRater Awards Explained
When it comes to highlighting the top auto dealerships in the nation and throughout each state, DealerRater does a fantastic job. DealerRater's format allows customers to leave reviews that rank a dealership in several different categories, including overall experience, quality of work, friendliness, pricing and customer service. In addition to granting between one and five stars for each category, customers can also leave lengthy reviews about the dealership and individual sales agents and service technicians.
Not just any dealership can qualify as one of the best in the nation. The only dealerships in the running are those that have received at least 25 new reviews in a year and averaged a rating of at least four out of five stars.
When it comes time to spotlight the Dealer of the Year Awards, DealerRater compiles all of these reviews to determine a PowerScore. This number calculates the average star rating for each dealership and weighs that against the total number of reviews written for the dealership in a year. Though the PowerScore appears as a single figure, it leads to extraordinary results as it highlights the nation's top performing auto dealerships.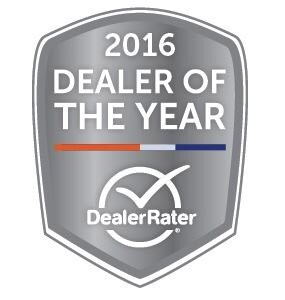 Hyundai of Cool Springs Is the Best in Tennessee
Since there are thousands of auto dealerships across the nation and hundreds in Tennessee, only a select few receive the designation of Dealer of the Year. In fact, Hyundai of Cool Springs is 1 of just 23 dealerships in Tennessee to receive this award. Since we're the only Hyundai dealership to receive the award in the entire state, however, this honor means so much more. Hyundai of Cool Springs is the top Hyundai dealership in the entire state of Tennessee.
Our Customers Love Us
Though DealerRater has given Hyundai of Cool Springs this impressive Dealer of the Year award, it's our customers who helped us rise to the top. After all, the enthusiastic reviews from happy clients are the reason for our success.
At many dealerships, financing can be one of the most stressful parts of the car buying process. At Hyundai of Cool Springs, however, our customers tell a different story. One happy client says, "The sales and finance managers made us feel like we were the most important clients in the building. This is a classy group!"
Other customers are thrilled with the entire car buying experience, from selection to negotiation to financing. Reviews like "Hyundai of Cool Springs is by far the best experience I have had at a dealership" drive home our expertise with new Hyundai sales.
As you can see, we couldn't be more honored by our accolades from DealerRater. Don't miss your chance to let us impress you with our stellar customer service and unbeatable new and pre-owned inventory at Hyundai of Cool Springs.