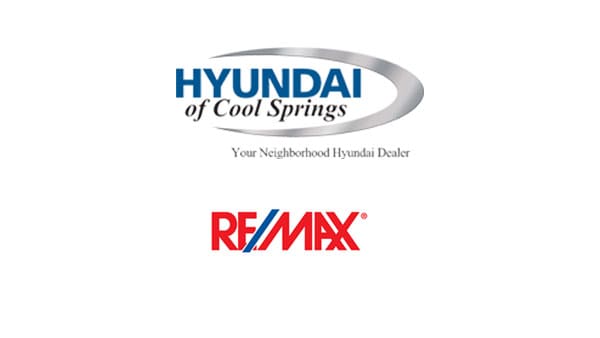 If you're a RE/MAX Affiliate who's shopping for a car in Tennessee, Hyundai of Cool Springs has an offer that's just for you. In 2015, Hyundai is partnering with RE/MAX and offering affiliates across the country to opportunity to qualify for special pricing and unbeatable offers on new Hyundai vehicles. The promotional pricing is available to more than 50,000 affiliates all around the U.S.
We couldn't be happier. The team at Hyundai of Cool Springs is excited to partner with our local RE/MAX Affiliates. As one of the world's largest franchisors in real estate brokerage services, RE/MAX is a trusted name, and we know a new vehicle can set brokers apart from the competition.
For real estate agents, making a strong first impression is important, and our lineup of premium, modern vehicles, including the 2015 Hyundai Sonata, Hyundai Genesis and Hyundai Santa Fe, can help develop that instant credibility. As an approved supplier for RE/MAX, our sales team wants to help you join our Circle A Buying Program, which extends the lowest prices and lease offers on new Hyundais to all RE/MAX Affiliates. It's easy to apply, and the benefits are undeniable:
Special lease offers unavailable the general public
The best pricing on new Hyundai vehicles
Up to four purchase per year
How Hyundai RE/MAX Affiliates Buying Program Works
This offer is available to RE/MAX Affiliates and their immediate families in Cool Springs, TN and the region. Special pricing and lease offers cannot be transferred outside of the immediate family. Additionally, buyers can claim the benefit on up to four vehicle purchase or lease offers per year.
Which vehicles are eligible for the program? Affiliates can get special pricing on our entire inventory of new, in-stock Hyundai vehicles. This includes the 2015 Hyundai Tucson and the 2015 Hyundai Sonata Hybrid. Whether you need a modern premium sedan, or a spacious and stylish SUV, we have plenty of options for you.
Applying for Our Circle A Buying Program
Fortunately, qualifying for the program is easy. You just have to visit the Hyundai Circle website and generate a Circle A Certificate. This may require specific information from your employer or HR department. The certificate will include an expiration date, as well as other useful information about the program.
Once you've printed your Circle A Certificate, you're ready to shop. Visit Hyundai of Cool Springs and present your certificate when you're ready to purchase a vehicle. Plus, our sales team is happy to help walk you through securing a Circle A Certificate. If you have any troubles generating a code at home, we're more than happy to help.
Visit Hyundai of Cool Springs Today
Whether you're looking for a new vehicle to drive from showing to showing, or you're interested in purchasing the Top Safety Pick+ 2015 Hyundai Tucson for your family, our sales team can help. We offer a range of new Hyundai vehicles – all balancing safety, efficiency and style – and with Circle A benefits, the prices available to you are the best around.
In the meantime, we're happy to answer any questions about the program for you. You can contact our sales team any time via phone, or email, or visit our location in Franklin, TN. We're at 201 Comtide Court, just off I-65 and 20 minutes from downtown Nashville.