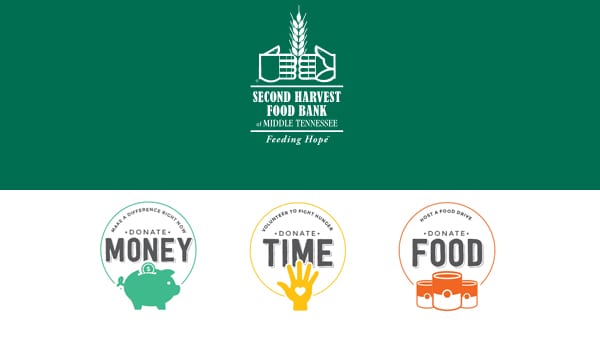 Hyundai of Cool Springs strongly believes in the vital importance of giving back to the Nashville community. Our team of dedicated automotive experts participates in several different fund raising campaigns to help improve the well-being of the people that make Nashville a great place to live. As an organization that prides itself on "Feeding Hope," the Second Harvest Food Bank forms one of the cornerstones of our charity work.
Merging Philanthropy and Social Media
Social media has morphed into much more than a communication channel to keep friends and family members abreast of our activities. For years, businesses such as Hyundai of Cool Springs have benefited from social media by promoting products and services in a much more informal online environment that what's found on small business websites. What's good for the business goose has to be just as good for the charity gander, as Hyundai of Cool Springs has introduced a novel way to raise money for several worthwhile organizations. For every "Like" that we receive on Facebook, we donate $1 to one of many organizations that enhance the lives of our friends from greater Nashville, Tennessee.
Hyundai of Cool Springs has partnered with Second Harvest Food Bank to ensure the organization's pantry remains well stocked.
Second Harvest of Middle Tennessee Stretches Every Dollar Donated
Second Harvest Food Bank of Middle Tennessee has earned the 4-star Charity Navigator rating for the organization's impeccable fiscal management and resources allocation. Receiving the highest charity rating places Second Harvest among the top one percent of all charities that operate within the United States. Second Harvest has parlayed its strong reputation into growing its once humble operation into an efficiently run large non-profit organization that meets the nutritional needs of those that lack the resources to acquire sustenance. For every dollar that Hyundai of Cool Springs raises via Facebook "Likes," Second Harvest Food Bank of Middle Tennessee provides four meals for people that struggle with hunger.
A Pillar of the Nashville, TN Community
Second Harvest Food Bank of Middle Tennessee began in its mission to feed the hungry in 1978, with the help of financing from multiple Nashville civic leaders. The primary goal of Second Harvest is to act as the central distribution center for businesses and non-profit organizations that donate food, money, and resources to help alleviate the nefarious impact of hunger. The largest hunger relief organization in Tennessee collects, organizes, and distributes food to area pantries, homeless shelters, and soup kitchens. From 160,000 pounds of food distributed during 1978, Second Harvest Food Bank of Middle Tennessee morphed into a hunger relief organization that distributed almost 30 million pounds of food during 2014. The nearly 30 million pounds of food provided more than 24 million meals to hungry families that live in the 46-county middle Tennessee region.
Hyundai of Cool Springs Gives More than Money
The Hyundai of Cool Springs automotive team is proud of its financial contributions to Second Harvest Food Bank of Middle Tennessee. Our innovative Facebook fund raising initiative has attracted interest from loyal customers, as well as Nashville residents that have never visited our Franklin, Tennessee dealership. Not only do we encourage our Hyundai sales and service professionals to volunteer at Second Harvest, we also make it appoint to encourage our good friends from greater Nashville to donate time for a worthy cause. After all, time is money.
You can make a significant contribution in the fight against hunger, without having to leave your home. Simply "Like" us on Facebook as many times as you want to raise money for supporting one of the most effective charities going in Nashville, TN, the Second Harvest Food Bank.