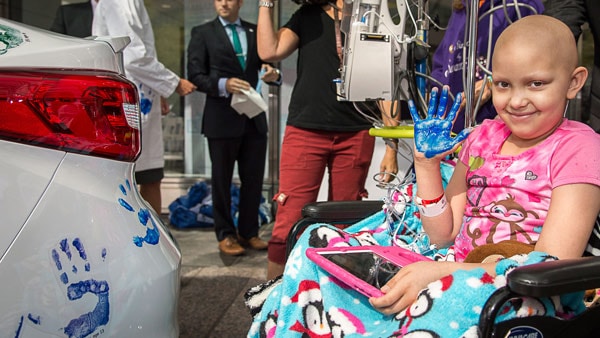 Hyundai of Cool Springs does much more that sell cars to customers that live throughout greater Nashville, Tennessee. We believe in the philosophy that it is better to give than to receive. Our Hyundai dealership commits to establishing an indelible impact on the community by contributing to several different charities. Perhaps no other mission has more impact on the Nashville community than the Hyundai Hope on Wheels campaign.
Hyundai Hope on Wheels
Since 1998, Hyundai Hope on Wheels has tackled head on the ravages of childhood cancer. The foundation raises money for research into the causes and treatments of a wide variety of pediatric cancers. From donating funds to pediatric research facilities to recruiting Nashville, TN area celebrities to promote pediatric cancer fundraising campaigns, Hyundai Hope of Wheels promotes awareness of pediatric cancer issues. Childhood cancer does not only affect the children; it also impacts siblings, parents, and members of a child's extended family. Children cannot fight the lengthy battle against cancer by themselves. They need help from foundations, such as the Hyundai Hope on Wheels foundation for financial, as well as emotional support.
How Hyundai of Cool Spings Contributes to Hope on Wheels
The loyal, lifelong customers that visit Hyundai of Cool Springs understand that our Nashville dealership has made an indelible impact on the community. Our Franklin, Tennessee dealership recently announced a program that helps children struggling with cancer. Our pediatric cancer fundraising campaign employs a novel approach to raising money for kids by involving our good friends from greater Nashville. For every vehicle that we sell from our large lot of new and used cars, Hyundai of Cool Springs donates $18 towards the fight against pediatric cancer. The novel approach to fundraising makes it a collaboration between Hyundai of Cool Springs and our loyal customers to stem the tide of cancer that afflicts far too many children.
Childhood Cancer by the Numbers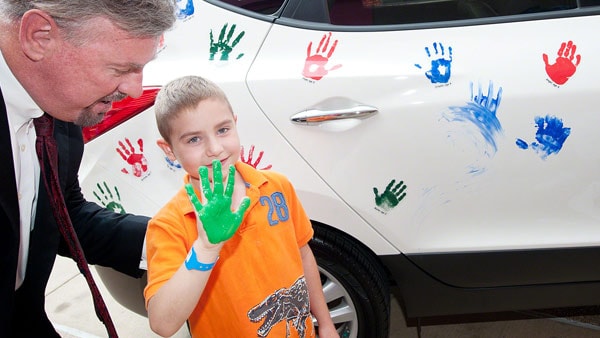 Pediatric cancer often gets lost in the medical shuffle, as other medical issues claim the fundraising spotlight. However, after reviewing the numbers, childhood cancer should be a cause that resonates throughout the Nashville, TN community.
Childhood cancer represents the leading cause of death for children under the age of 15
720 American children receive a cancer diagnosis every day
70% of pediatric cancer patients experience lifelong chronic symptoms
One out of every 300 children receives a cancer diagnosis before the age of 20.
263,000 new pediatric cases affect children worldwide each year
91,250 children in the United State lose the battle against cancer every year
Most common types of childhood cancer:
Leukemia
Bone cancer
Neuroblastoma
Lymphoma
Wilms tumor
Brain tumors
Rhabdomyosarcoma
Retinoblastoma
Monroe Carell Jr, Children's Hospital at Vanderbilt
The money raised by Hyundai of Cool Springs helps defray some of the pediatric cancer patient costs incurred at renowned medical centers such as the Monroe Carell Jr. Children's Hospital at Vanderbilt. Know for its world class facility and cutting edge medical technology, the pediatric center at Vanderbilt operates on donations from non-profit organizations, as well as smaller fundraising campaigns like the one implemented by our Nashville Hyundai dealership. From reducing pediatric cancer medical bills to investing in the latest diagnostic equipment, the $18 that we raise for every car sold at Hyundai of Cool Springs helps children fight the never-ending battle against childhood cancer.
Help us fight the battle against childhood cancer by visiting our Nashville, Tennessee Hyundai dealership. You do not need an appointment to test drive a new or pre-owned Hyundai vehicle. Simply stop by our Franklin, TN dealership located adjacent to Interstate 65, less than 20 miles south of downtown Nashville.